Darling River System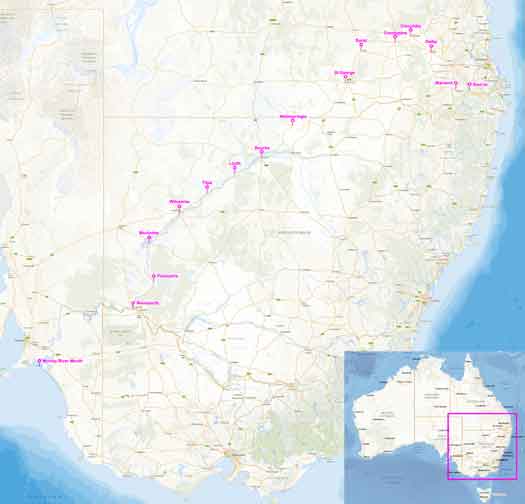 The Darling River is perhaps the outback's most famous waterway. It was once vital for travel and commerce on top of a long Aboriginal history that stretches for tens of thousands of years. This history can still be seen today, from the fish traps on the Barwon River that could be the world's oldest standing man-made structure, to the historic Tilpa Hotel and the heritage paddle-boats that still operate at Wentworth. The waters of the Darling River eventually join up with the Murray River before flowing out into the Southern Ocean near Adelaide.
The Darling is part of the longest continuous river system in Australia. Looking upstream, the Condamine River is the most remote source, near Warwick in Queensland. This flows across the Darling Downs and joins with Dogwood Creek to become the Balonne River. Below St George the river disperses out over the Culgoa floodplains, where the Culgoa River is the major distributary. Eventually most of these branches rejoin up with the Barwon River where the waters form the Darling River.
Rivers
States
Length
Condamine River
QLD

657 km

Balonne River
To the Culgoa River
QLD

409 km

Culgoa River
QLD, NSW

489 km

Darling River
NSW

1,545 km

Murray River
From Wentworth
NSW / VIC border, SA

828 km

Total length

3,855 km
GeoScience gave a length of 1,195 km for the Condamine/Balonne/Culgoa Rivers and 3,672 km for the complete system using 250K maps, well short of individual river lengths from Wikipedia that in turn was significantly shorter than actual measurements off the satellite images.
The most common starting point for people paddling just the Darling River is at Brewarrina on the Barwon River. Brewarrina is ~122 km upstream from the Culgoa River confluence that marks the official start of the Darling River. It is a 205 km leg between Brewarrina and Bourke.
Guides, Resources and References
General Overview and Location Guides
Gear
Refer to the Murray River Gear Section for a discussion about kayaking and camping gear.
I would look at a creek boat (high flow) or packraft for the upper gorge. The section from Killarney to Warwick was choked with log jams, so you will be entering and exiting your boat on a regular basis. A shorter length boat would be easier to handle in the narrow creek. A tested repair kit is vital for an inflatable.
The river opens up below Warwick and a canoe or sea kayak would be recommended. Small sections of easy rapids above Surat and a few more just below Beardmore Dam, otherwise generally flat water paddling.
Information to ensure an enjoyable and successful trip.
My Personal Journey
My rambling blog and trip table for the trip.