Chile & Argentina
Chile
San Pedro de Atacama
21 April, 2011
We have had four nights in San Pedro, Chile and done little more than chat and drink Pisco Sours in the sun. A little mini-holiday from our main holiday.
After staying in a hotel for $60USD on the first night, we camped for the next three nights for a more reasonable $16 per night, still steep for what it is. We spent the first two nights with Danny, listening to stories about his life.
Argentina
Viva Argentina
22 April, 2011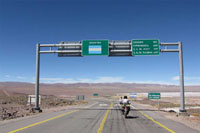 We left early and headed up the hill to Argentina. It was such a relief to make it through the final border with the bikes. After an initial reluctance to let us have more than 90 days, we managed to get the max allowed of 8 months. We headed across the high alpine plains and dropped to 3,000 m to find a place to stay and ready ourselves for the long slow hog across the tarmac roads to the other side of the country... towards our final destination of Buenos Aires
Done!
5 May, 2011
We are now in Buenos Aires, our end point for this trip. There was no welcoming party to cheer us in, just a quiet sense of pride in our 33,000 km+ journey. Alas, Tierra del Fuego is still a dream we will have to come back for another time. Whilst we are excited about going home to family (and Chris to her new project), we have fallen in love with Latin America. There will be tears flowing when we get on that plane to go home, and no doubt we will spend the next 3 years looking for a way to get back (and Al promises all those shopkeepers, the Mexican police and gas station attendants that he will try to learn more Spanish).
¡Despedida!
10 May, 2011
One year to the day we landed in Los Angeles, USA, we boarded our plane in Buenos Aires, Argentina for New Zealand.
The last couple weeks were a bit of a blur as we made it to Buenos Aires and got everything ready to depart. We managed to get a bit of time sightseeing and shopping around town albeit with heavy hearts that the journey was coming to an end.
with full expectations of coming back to finish the final planned leg from Buenos Aires to Tierra del Fuego National Park we put our bikes into storage and head for the airport. Customs was a breeze without having to worry about the bike paperwork and we boarded without issue. Smooth sailing other than a 4 hour delay on the tarmac due to some unknown technical reason, which gives you a lot of confidence before a 14 hr flight across an ocean.