Planning
Planning a trip aboard can be a complicated thing, especially when you are planning something unusual or on a shoestring budget. In which case, if you are a fella, let your partner or wife do it.
Chris spend about 3 days looking at cheap tickets to get us home then to the USA. In hindsight, we over planned Asia, so this time a more casual approach.
Get some picture books out of the library and take a squiz.
Get some maps and mark the places you like the sound of on them. Looking at others' travel blogs and reading some travel stories helps.
Get some Lonely Planets from the library and work out how much you need for the sort of things you want to do.
Itemise expensive things, and do both an el cheapo option and a more flexible budget for your daily allowance. If you are selling up, for god's sake, leave a little for setting up when you get back!
Work out how long you can go for, and plan a rough route between the places on your map. Don't plan to be travelling for more than a third of your days; the view from the bus is never as good as meeting people, smelling the air and eating the food with the same scenery.
Buy your tickets, get your shots and drug kit sorted, get travel insurance that covers you for the things you want to do, and go!
When in country, take a notebook to write down what you spend. Adjust your travel budget and plans accordingly; avoiding touristy spots always helps.
Since we wrote this back in 2010, the online tools means that even blokes like me can easily handle booking cheap flights. But seriously, the advice generally stands true today too. The only danger now is that you will risk being overloaded with too much information!
But for those 0.01% of travels doing things outside of the norm, careful trip planning, training and smaller trial trips may be in order.
For the Murray, there was minimal information on the upper leg. Of the four known accounts that completed this leg, one party nearly died of hypothermia, another party struggled due to poor gear choice, and there was no information on the other two explorers. At least no-one died, so it can't be too bad right?
Camping?
Get the low-down on the rules and regulations around camping in each country.
We didn't spend too much time in hotels in the USA, the best places were the BLM lands that had free camping in amazing places all over the country. These were usually close enough to the big National Parks to avoid the crowds and save a lot of cash at the same time!
Many countries also have a freedom to roam right where you can even camp on private land, specifically Scotland, Finland, Iceland, Norway, Sweden, Estonia, Latvia, Lithuania, Austria, Czech Republic and Switzerland.
In fact, once you're off the beaten track you can probably quickly find somewhere to bunk down for the night. Just always be aware of your surroundings and stay safe!
Google Maps
This can be both your friend and your worse enemy. Many tracks, roads and other trails have been entered in from various maps and satellite imagery. These can be cross-referenced with topological data and accurate distances, elevation gains / losses and even rough times can be pulled out of the data. Heck you may even get a bird's eye view of things. However, many of the more obscure and or remote roads / tracks may not even exist. If in any doubt cross reference with two or more other sources.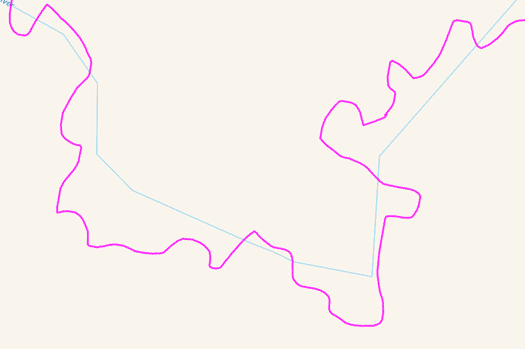 Other useful tools of Google maps is that you can switch to Satellite view to cross reference features and another is to use the Measurement tool to easily estimate the distance between points fairly accurately. I used the measurement tool to estimated key supply points for my trip by plotting the course of the Murray River. The total distance tallied using the measurement tool was 2,483 km... just 25 km or 1% off the official distance of 2,508 km. After getting fed up with the RSI of clicking a million times, I have started using the Distance - Find My Distance app by myice92. (Google Play / App Store)
Clearly if you have the tools and access to the data, you can easily run geospatial analysis, but I was content with Google maps or the Find My Distance app.
Finally, real distances on smaller rivers & creeks are likely greater than suggested in any official maps, as seen in the animated GIF showing the differences in the Australian National Topological Map and the actual aerial photographs. This is from the Condamine River, between Kilarney and Warwick.