Weirs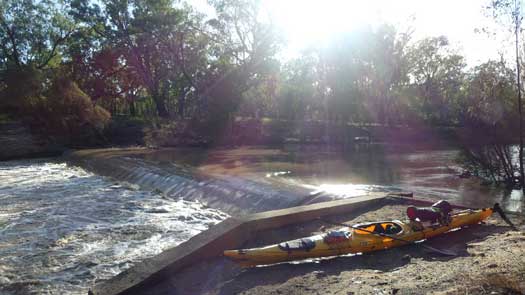 One of the least concerning looking hazards is actually one of the most lethal dangers that you are likely to encounter on the Darling. Unlike most of the weirs in populated centres, the weirs are usually unmarked, especially in the more remote rivers. In the right conditions some weirs can be hard to see from a distance, stay alert.
The dangers posed by a weir are very dependent on the flow. With no flow it is just a hassle to portage over it. With very high flows it may be fully submerged and may not even create a ripple. However, with the right flow many of the weirs can create a perfect hydraulic across the structure that even the most experienced paddler may not be able to escape.
There is only one way to safely navigate a flowing weir, to portage around it. The current can be deceptively strong near the weir, so stay close to the river bank and exit well before the weir. Below the weir wall there will likely be a strong upstream current going back towards the weir as the eddy flow is recirculating back. Finish your portage below well below these currents.
Key Weirs along the Darling System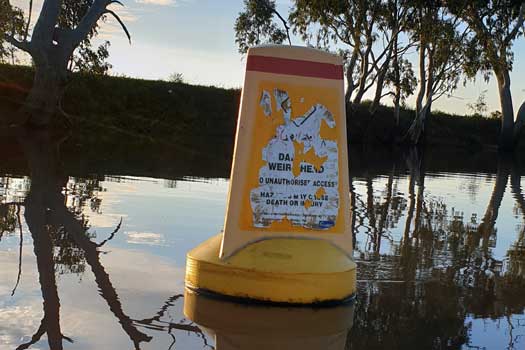 All weirs have been pieced together from misc sources. Some have not been confirmed as I either paddled in high flow or haven't been to some of the areas yet like the upper Barwon River.
Above Warwick there are a dozen or more weirs and crossings. One road crossing had a particularly nasty drop onto shallow rocks. I didn't record those locations.
Over the entire lengths of the Condamine, Balonne and Culgoa Rivers, none of the weirs had any warning signs in the water other than an old warning buoy seen at Talgai Weir and a buoy line at the Chinchilla Weir. Most NSW weirs on the Barwon and Darling from Walgett had an upstream sign that was often easily overlooked, and only a few had warning buoys in the river.
The following is a work in progress collecting up information about the main non-natural hazards on the system. This only includes features that cause a drop of at least 10 cm that I noticed and remembered to record the location as I passed by.
Name
Hazard
Info
Condamine River
East St Weir
Weir
Queens Park Weir
Weir
Farm Track
Crossing
Loose Stone Weir
Weir
Unnamed Weir
Weir
Farm Track
Crossing
Farm Track
Crossing
Talgai Weir
Weir
Farm Track
Crossing
Unnamed Weir
Weir
Yarramalong Weir
Weir
Farm Track
Crossing
Lemon Tree Weir
Weir
Control or Small Weir
Control
Farm Track
Crossing
Small Weir
Weir
Cecil Plains Weir
Weir
Tipton Weir
Weir
Farm Track
Crossing
Loudoun Br Weir
Weir
Farm Track
Crossing
Farm Track
Crossing
Warra Weir
Weir
Farm Track
Crossing
Chinchilla Weir
Weir
Stone Weir
Weir
Crossing with control
Crossing
Condamine Weir
Weir
Reillys Weir
Weir
Cotsworld Weir
Weir
Balonne River
Surat Weir
Weir
Control
Control
E.J. Beardmore Dam
Dam
Jack Taylor Weir
Weir
Control
Control
Culgoa River
Whyenbah Weir
Weir
Weir near the head of the Culgoa. Todo: check name and position.
Goodooga Weir
Weir
Todo: check name and position.
Weilmoringle Weir
Weir
Fully submerged as I paddled past.
Barwon River
Walgett Weir
Weir
Only just submerged.
Brewarrina (#15) Weir
Weir
Almost submerged.
Darling River
Bourke Weir
Weir
Fully submerged as I paddled past.
Bourke (#19A) Weir
Weir
Fully submerged as I paddled past.
Louth Upstream (#20A) Weir
Weir
Fully submerged as I paddled past.
Louth Downstream (#21) Weir
Weir
Fully submerged as I paddled past.
Tilpa Weir
Weir
Fully submerged as I paddled past.
Wilcannia Weir
Weir
Fully submerged as I paddled past.
Main Weir
Weir
I portaged via the left, albeit there could be a boat ramp on the right. Todo check images
Weir 32 Weir
Weir
Old Control
Control
Old control or weir built on shallow rocks (S33° 32.695' E142° 30.108')
Pooncarie Weir
Weir
Burtundy Weir
Weir
Many of the major weirs in the upper Darling basin are show in the map below:
Dam or Reservoir
Weir or Low Head Dams