Darling River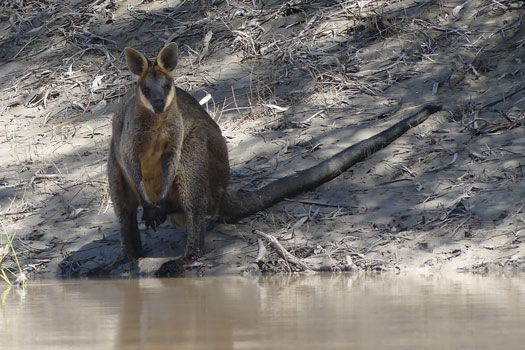 Onto this Australian iconic river that is formed by the merging of the Barwon and Culgoa Rivers.
While there are reports that a tiny flow will be enough to traverse the river at 20 ML/day, a minimal flow of 1 Cumecs is more realistic and likely only enjoyable above 10 Cumecs. Carefully assess the flow and speed of the water through the system before any trip. See the planning page for more details.
Key Waypoints
Darling River Head

The Darling is most commonly started from Brewarrina (Bre for short) that is 122.7 km above the head of the river, a 205.2 km trip to Bourke.

Walgett is the next major town on the Barwon, accessible from the Namoi River. It is 406.2 km above the head of the Darling, and 488.7 km from Bourke.

Bourke

IGA in town

Avoid leaving your gear unattended here (RK).

Louth

Shindy's Inn (02 6874 7422) is a pub that serves as a cafe and store. They stock basic supplies and you could possibly be able to organise a food run beforehand.

Tilpa

Tiny town with pub and petrol station, no supplies unless organised beforehand with the owners of the Tilpa Hotel (02 6837 3928). They do a food run about once per week.

Wilcannia

An IGA in town (the Friendly Grocer 08 8091 5989). There are apparently petty crime issues so keep a watch on your gear. (RK).

Menindee

Darling River Friendly Grocer (08 8091 4288) in town for supplies.

Ellerslie / Palinyewah

Ellerslie is a small citrus-growing community. Likely no shops etc.