Major Tributaries
While the above rivers all flow directly into the system, there are a number of important feeder rivers into the tributaries themselves including:
Catchments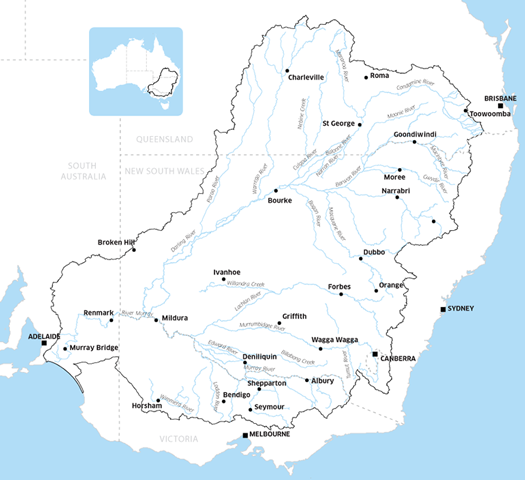 The Balonne catchment that is part of the northern Murray-Darling Basin. This is the main catchment for the upper rivers. Multiple catchments feed the Barwon River which is the main driver of the Darling River.
For up to date information on the catchments see the Murray-Darling Basin Authority website for catchments and water storage levels.
Catchment
Effects
Water Storage
Contribution
to MDB
Condamine–Balonne
Condamine, Balonne, Culgoa
Beardmore Dam (94 GL), Leslie Dam (106 GL), Cooby Dam (21 GL)
8.5%
Moonie & Border Rivers
Barwon
Pindari Lake (312 GL), Glenlyon Lake (261 GL), Lake Coolmunda (69 GL)
5.8%
Namoi & Gwydir
Barwon
Keepit Dam (426 GL), Split Rock Dam (397 GL), Chaffey Dam (101 GL), Copeton Dam (1,364 GL)
6.6%
Macquarie–Castlereagh
Barwon
Burrendong (1,190 GL), Windamere (353 GL), Oberon (45 GL), Ben Chifley (31 GL), Suma Park (18 GL)
8.4%
Warrego & Paroo
Darling
Cunnamulla Weir (4.8 GL)
< 1%
Barwon–Darling
Darling
Lakes Menindee, Cawndilla, Pamamaroo and Wetherell (1,730 GL)
2.8%
Map of the Main Tributaries