Our Motorcycles
Why bikes?
Alan has been riding bikes since he was a youngin', usually his primary form of transport. Most of Chris's family ride; Her brother rides a Ducati, her sister a dirt bike, and her brother in law both dirt and road bikes. Her aunt and uncle rode, and her cousin had just left to ride from Russia to London. Chris's first experience was riding little 125cc bikes in Asia (Thailand and Laos). In Laos, we took two little 'postie bikes' around the Bolaven Plateau for 5 days, on tarmac and dirt roads. It was an amazing experience, not only for the fact that we were able to get off the tourist route, but because being on a bike is such a richly sensual experience - you (literally) feel the weather, the smells are more vivid, you travel more slowly and on different routes so you see more, and then there is that sense of freedom that comes with being exposed to the elements. We loved it.
So when Alan jokingly suggested doing the next trip on bikes, Chris jumped in. She got her licence, went to motorbike school, and that's where it started. The cost of renting bikes is high in the US ($100 per day), whereas new bikes are cheap and have great resale value (75%+). We figured why not just see how we go, and anything over 10 days means we wouldn't lose money. At the beginning of the journey, Chris was called all sorts of things, crazy and ambitious being two of the most common. One major problem is her height: 5'2'' is quite short when Enduros (Dual Sports) are in order, and so she rides only a putt-putt 250cc. Now, in Mexico, she is just a girl on a bike, with a husband who is carrying most of the load.
Our Bikes
These weren't necessarily our first choices, but price and availability were the primary considerations!
After a lot of searching around and testing bikes in almost every bike shop in Brisbane we finally decided on the following bikes. A KLR650 and a XT250. After finding a good deal on another 250 dual sport (KLX250) and a promise to be able to lower it so that Chris could flat foot, we went for that.
This also involved a lot of reading on Adventure Rider to get firsthand accounts of the good and the bad characteristics of each bike.
Kawasaki KLR 600
Mostly positives about the bike, but it is lacking the suspension for the trip at hand....
Modifications
Bark busters
15 May - Happy trail panniers installed. Bloody expensive - around the $800 USD for these and the mounts.
24 June - New rear tire $180 USD
15 July - Installed a tool tube in the carpark of Home Depot. About $25 USD
at least 3 or 4 more sets of tires over the trip
Repairs & servicing
800 miles store service
825 miles lost a manifold bolt
10 - 7500 miles fell over multiple times as the standard suspension could not handle the load
7300 miles - quick service & oil change before heading into Mexico
8500 miles - lost speedo cable. 1 mile and 4 countries later, a replacement was found.
Stock suspension gave up and custom suspension added in Mexico.
Custom suspension repair blew out in Colombia. A contributing factor in a later accident.
Custom suspension blew out third time in Bolivia.
Neither a repair nor service, but this old girl drank litres of oil. I would always take an extra litre spare for emergencies.
Crashes & spills
Dropped 4 times while parking in the US - "dropped" meaning "falling over while parked". Damn cheap arse factory suspension, the bike tilts away from the stand with the full load!
Road edge cave in sends me off the side in the middle of nowhere Baja with a full load pinning my leg. Damn lucky that nothing was broken.
Wet / oil slick in the wet in Palenque triggered a sideways slide into a tope that sent both me and the bike packing into the tarmac. Three front wheel spokes popped and some bruising.
Hard fall avoiding a cyclist in Ecuador. Read about this here.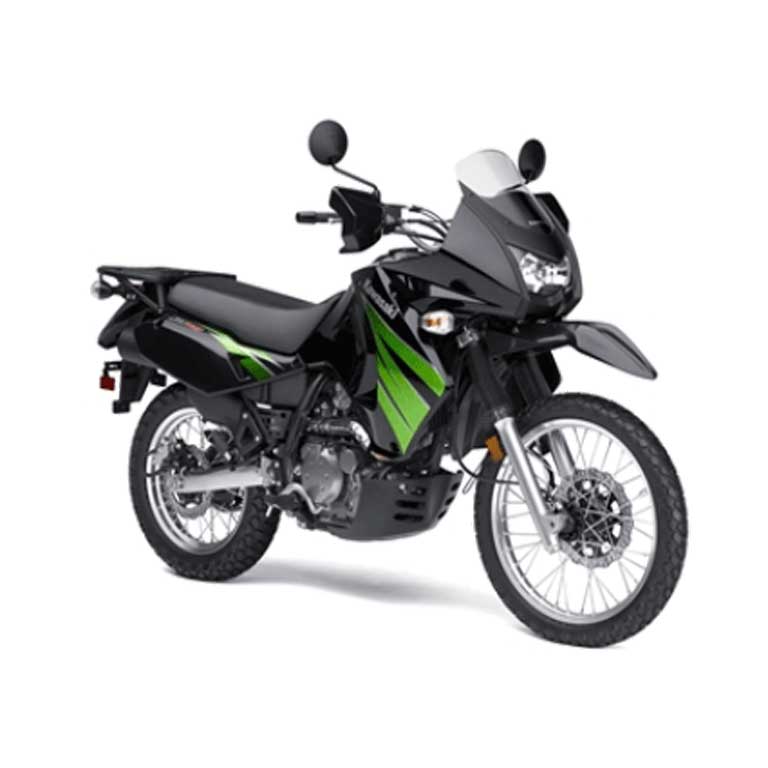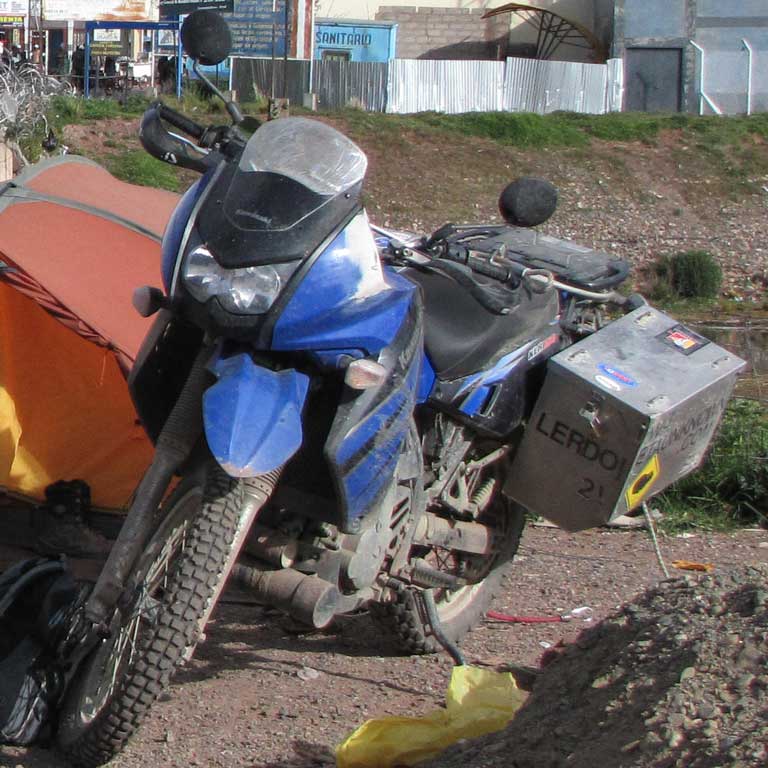 Kawasaki KLX250S
Mostly positives about the bike, minimal issues other than wear and tear
Modifications
Lowered
Bark busters
Fuel adjustment for high altitude - wire in the carb
Repairs & servicing
700 miles - first service
5900 miles - full service including value adjustments
20,000 miles - Honda replacement sprockets custom fitted
Crashes & spills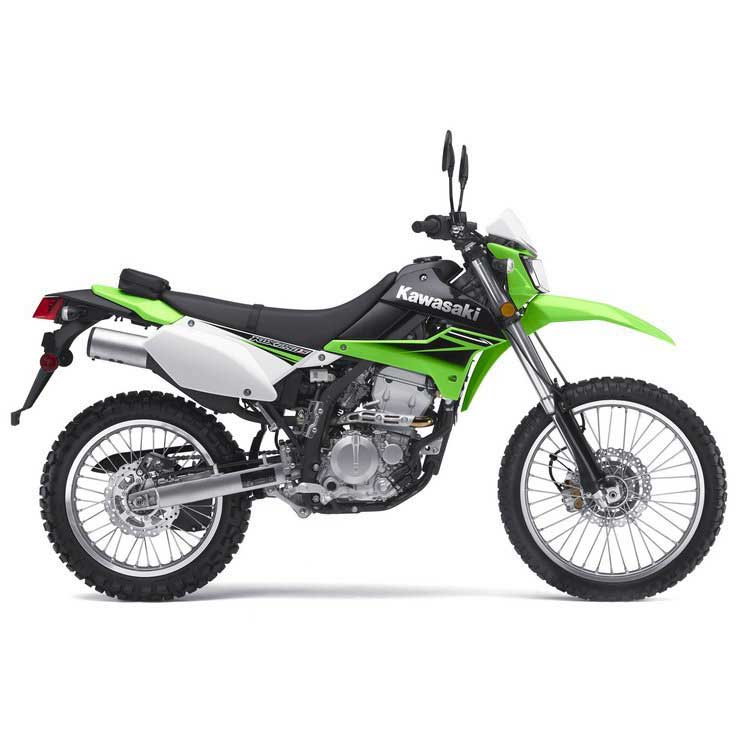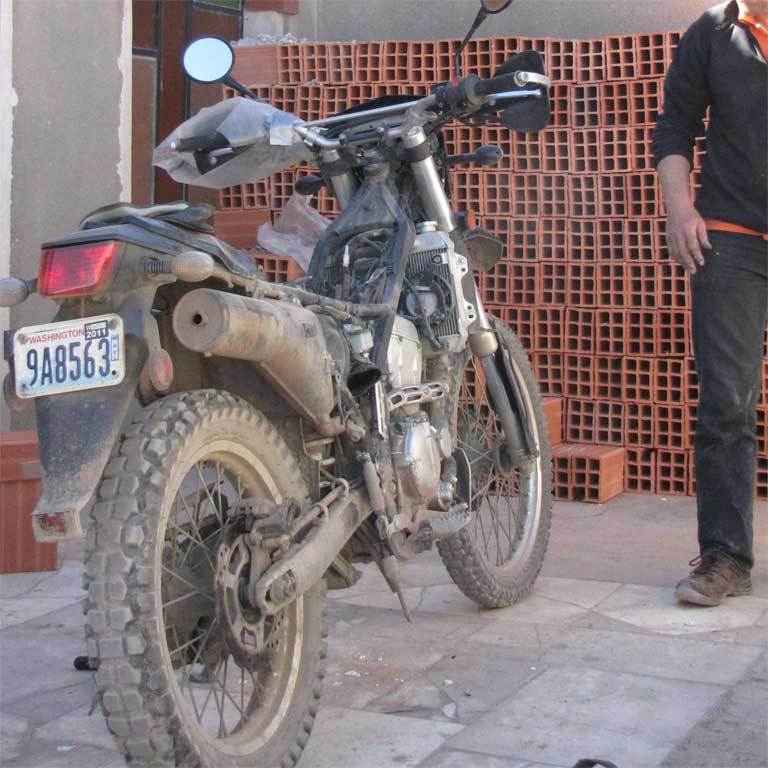 Additional gear for the bikes
Complete first aid kit, tire repair kit and tool kit.
We need to have every tool needed to fix a broken chain, punctured tire, or to tighten loose bolts. While it is usually easy and cheap to get a puncture repaired in a shop, we had many instances where is was simply easier to do ourselves and potentially dangerous if stranded
Pack an extra length of fuel line, an extra spark plug, some rags, zip ties or bailing wire, a flashlight, electrical tape and some duct tape.