Macquarie River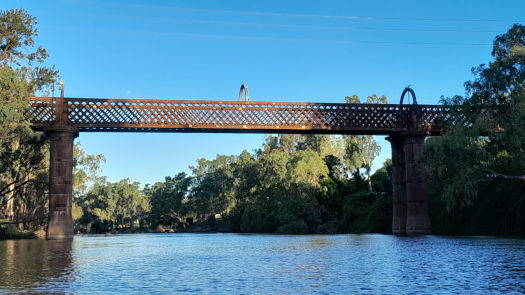 The Macquarie or Wambuul River flows from the central highlands of New South Wales from near Bathurst northwards and joins the Barwon River about halfway between Walgett and Brewarrina.
The majority of the navigable waterways paddled are between Wellington and Narramine, a great little river trail of 564 km. From here the journey down to Barwon River has many difficulties. Once at the Barwon River you have another 129 km to Brewarrina (total length 693 km).
Guides, Resources and References
Gear
If you are not supported, you will need to take provisions for long distances where there are no supply points.
A sea kayak or canoe is likely the best option for the long leg down from Dubbo down to the Barwon River. There are possible rapids and frequent snags if low.
The upper section has been successfully navigated with a variety of boats, as well as some unsuccessful trips. This is Grade II - III whitewater with a hard Grade IV rapid that can be skipped. I'm expecting difficult portages and would personally consider a tough river runner, sea kayak or canoe.
Refer to the Murray River Gear Section for a discussion about kayaking and camping gear.
Planning
Information to ensure an enjoyable and successful trip.
Additional Information
The main hazard is the remoteness of the river, along with a number of weirs and snags from submerged trees. Refer to the Darling River Risk Assessment page that covers the majority of the main risks one will face. The upper sections around Inverell can get cold in winter and all areas can get extremely hot in summer.
My Personal Journey