Planning
Quick Links
Starting Dates
Mt Kosciuszko
The standard hiking season is roughly from mid-November to the end of April. Remember to check with both the NSW and VIC park pages for status and closures.
The Thredbo resort site will only list the trek to Mt Kosciuszko as open when there is minimal risk to the average walker. It is likely to be safely traversed by experienced hikers much earlier, in fact any time of the year with snow shoes and navigation tools. Up to 4 m of snow could be covering the track.
My trip was unnecessarily delayed waiting for this to change, but with hindsight while the increased flows would have assisted me, these were likely still too low for a pleasant trip, and I would have been caught out with the late snow sometime in my trip that is pictured here.
Murray River
Upper Murray River
The upper section has the higher flows August to October, but that will also mean much colder water and more variable weather. I roughly estimate that you would want a water level of at least 0.5 m at Biggara, and historically this is normally seen in November and December. Leaving your trip till mid-Dec or later will significantly increase the chances of a low flow.
The sweet spot is likely at the start of December where the temperature starts to rise, but historically still above my calculated minimum if you are traveling light, but maybe consider a November start if your considering a full source to sea trip.
Murray River (below Bringenbrong Bridge)
Standing advice is that summer is the best time to do the main leg on the Murray, due to the release of water for irrigation, but looking over the historical data suggest a peak in flows during spring and this slowly tapers off till early winter.
Heat is the second factor to consider, inland Australia can get very hot summer and very cold in winter! Many would consider things to be more pleasant in Spring or Autumn.
The final factor is the weather. While summer gets the heat waves, winter is more likely to get cold fronts and thus cold headwinds.
With all of these factors combined, Spring is likely the best season, but a combined single source to sea trip would push this into the early summer months to optimise all sections of the trip.
Alpine Track Info
I highly recommend the 1:25,000 maps for any non-standard treks in the area. I was using a 1:100,000 that proved inadequate with low visibility conditions. However, if you are staying on the main fire trails, these are very easy to follow on the NSW parks side.
Mount Kosciuszko
Merritts Nature Track

4 km on a steep track directly up. This starts from the valley terminal where you head down the valley past the Bobsleigh and then straight up. Fairly well signposted and crosses multiple mountain biking tracks.

Kosciuszko Walk

13 km grade 3 track to the summit and back, mostly on a steel platform walk.

Dead Horse Gap walking track

Part of the Australian Alps walking track, this fairly steep track wides down to the trailhead of the Cascade Hut Trail back down in the valley. The start of the track is about 250m from the Eagles Nest Cafe and was unmarked. It is the stone laid track heading towards a chairlift hut.

Thredbo River Track

Follows the track down the river to Thredbo.
Source (Pilot Wilderness Area)
Cascade (Hut) Trail

Stay on this trail, past Cascade Hut (9.7 km), past the Tin Mine Trailhead (21.9 km) down to the Tin Mine Huts (25.6 km).

I did not notice the Ash Fire Trail that heads west as the Cascade Trail turns east at about 20.5 km mark. This trail was part of a track that lead to a now abandoned BOM water gauge and is likely overgrown / non-existent now.

Water should be easily obtainable from the Thredbo and Cascade creek crossings as well as from nearby streams around both the Cascade and Tin Mine huts. Less reliable water can be found in a few streams about the 13 km mark.

Cowombat Flat Fire Trail

The Cascade Trail ends as it diverges at Tin Mine Huts. Take the Cowombat Trail that heads south west, not the Ingeegoodbee Trail that heads south east following the Ingeegoodbee River.

At 7.7 km the Snow Gums Trail heads off to the right / west. Keep left traversing around The Pilot (1,828m) on its western flank down to Cowombat Flat, 17 km along from the Tin Mine Huts.

Water should be easily obtainable from the Tin Mine Creek crossing. The only other water source I found under the dry conditions was a poor seep that crossed the road before the start of the Snow Gums trail. This would be unreliable in drier conditions. A decent enough seep was flowing at the track crossing of the Murray River at Cowombats Flat. This quickly dried up going upstream.

Snow Gums Trail

This is an alternative trail on the Pilot or Cowombat Ridge (the proper name given by GEO Australia). This provides nice views of The Pilot, before also heading down to Cowombat Flats via the Pilot Creek Firetrail.

The Snow Gums trailhead is at 7.7 km from the Tin Mine Huts and clearly marked. It heads right (west) across a small saddle.

About 850 m, the Murray River Fire Trail heads N along the Pilot or Cowombat Ridge, but stay on the Snow Gums Trail heading SW along the same ridgeline. This had an unreadable sign marking this old firetrail.

The Snow Gums Trail continues on about 2 km from the Pilot Creek Trailhead along Pilot or Cowombat Ridge. This firetrail terminates at a small rocky outcrop with thick surrounding bush.

I found no water sources allow this trail. Following the ridgeline down off trail, the first water of significance was the Murray River itself at the bottom of the valley, approx 5 km of rough offtrail hiking in dense bush.

Pilot Creek Firetrail

This drops off the ridge to the left (east) down into Cowombat Flats from the Snow Gums Trail. Starts approximately half way down the ridgeline, 5.4 km along the Snow Gums Firetrail.
Murray River Gorge
Harrington's Track

This 17km historic bridle trail stretches along the Murray River from Tom Groggin to Bunroy Station. The walk is steep and challenging at times. This trail terminates before exiting the gorge and is also popular with horse riders.

You rejoin the Murray River near Hermit Ck, the last of the class 3/4 sections is just downstream of the Hermit Ck confluence, maybe one of the most difficult rapids in the gorge. Easier shorter mostly class 2 sections could be tackled with a packraft from below this particular rapid.

16.6km

880m

1,009m

4h 52min

You can access this from the foot bridge at Tom Groggin Station entrance, following close to the river frontage, fording Omeo Ck (~1km from footbridge), down to the Stoney Ck track (at 3.75km) that leads to the start of the Harrington's track (combined distance 5.1km). Alternatively, start from Tom Groggin camping area, crossing the ford to Dogmans Hut. Follow Tom Groggin Track to Mt Pinnibar Track that joins up with Stoney Ck track. (10km total). A third option is to swim across from Grassy Flats Rd directly to the start of the track at Stony Ck camp.

Exiting the track via Bunroy and Upper Murray Rds.
Camping Options
Upper Murray
Summit to Source
I was warned from fellow hikers to avoid sleeping in the huts as they often have healthy mouse populations that may be problematic. However there are ample flat grassy spaces for a tent at either location.
Cascade Hut (1,474m)

Approximately 10 km down the Cascade Trail


36° 32' 24.7" S, 148° 16' 36.6" E

Tin Mine Huts (1,271m)

Approximately 25.5 km down the Cascade Trail


36° 42' 0.6" S, 148° 15' 1.3" E

AAWT Camping Area

Approximately 2.5 km down the Cascade Trail, just after the first stream crossing. Effectively backcountry camping.


36° 32' 24.7" S, 148° 16' 36.6" E
Murray River
The Poplars, VIC (853m)

Heading west down the Murray will lead directly to this 4wd access campsite.


36° 46' 36.2" S, 148° 6' 27.7" E

Tom Groggin Campground, NSW (527m)

Likely base camp for the trip.


36° 32' 32.8" S, 148° 7' 43.4" E

Dogman Hut Camping Area, VIC (519m)

VIC side by Tom Groggin Campground.


36° 32' 7.7" S, 148° 7' 58.3" E
Backcountry
Majority of my camping sites were by the trails or the river itself. Remember to:
bury human waste at least 100m from waterways and at least 15cm deep
only use detergents, toothpaste and soap if you're at least 50m from any waterways
most importantly, leave no trace
Alpine National Park VIC

Dispersed bush camping is permitted throughout the area

Kosciuszko National Park NSW

Back country camping is permitted, but a number of restrictions do apply.
Davies Plain & VIC tracks
There may be an easy escape trail on the VIC side using Davies Plain track to Tom Groggin if the river is impassable below the Poplars.
Charles Creek, VIC (1,567m)

Maybe around the creek crossing south 250m. Toilets apparently.


36° 43' 54.4" S, 148° 4' 22.7" E

roughly +/- 100m

Davies Plain Hut, VIC (1,404m)

36° 39' 6.3" S, 148° 7' 31.6" E
River Info
Finding the Source
Indi Springs is normally considered as the source of the Murray River. This is ~180m along the Black-Allen line at 36° 47' 49.3" S, 148° 11' 48.3" E.
From Cowombats Flat, walk up the Murray River to the start of the Black-Allan line. From here, head ESE along the border to find the spring. It has a steel pipe that was placed by the RMIT survey group in December 1984. A canister attached to this pole has a visitor book that you can sign. This spring can also be located by finding the Forest Hill Cairn #1 that is on the edge of the saddle between the knolls of Forest Hill (on a spur of The Pilot). Follow the line of rocks 22.5 chains (cough 452.6 metres) northwest from the cairn until you find the source.
I was guestimating a day just to find the source based on old reports, however it was an easy walk up from Cowombats Flat in fairly open terrain to the Black-Allen line. This took me about an hour one way. If both the NSW and VIC Parks service do feral animal control in the area, namely feral horses, this trip is likely much harder as the bush will recover and become thicker.
The Murray River source was indirectly determined by the Act of Separation Bill, 1851 that legislated the separation the separation of NSW and VIC. This defined the border as "a straight line drawn from Cape Howe to the nearest source of the Murray River". This was first surveyed in 1846 by Townsend, and Black confirmed this as the most eastern of the sources in 1869. It was officially named the Indi Spring in 2006, which is the Aboriginal name for the Murray River and also means 'something far away, or belonging to the past'.
Note that Limestone Ck is a likely alternative for the true geographic source if you are considering all sources within the alpine areas of VIC/NSW. It would be interesting to discover the history of both rivers, and what made the smaller eastern tributary to be named as the Murray. The political direction in the 1850s wasn't to define the Murray River course, only to find the eastern most headwater. This is a bit of a moot point as the best current estimate for true geographic source of the Murray-Darling Basin is actually the Condamine River in QLD.
Upper Murray River Gorge
Whitewater Guides
Guiding Companies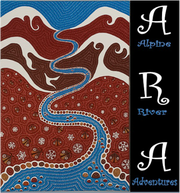 Alpine River Adventures
Inflatable kayaks and / or rafts. Bespoke guiding on the upper sections including the top 150 km mixed hike / kayak of the Murray River.

Rafting Australia
Guided rafting trips down the Murray Gorge starting from Tom Groggin Station
Location Statistics
The following charts have been generated from data from the following websites. The live feed of all gauges is extremely useful to see an overall picture of the system.
Click on the location name to open up or close each data set.
This is a more detailed breakdown of four key locations by decade. There is a worrying drying trend over the years seen in these charts. I have included 2016 as this was one of the driest years on record for the upper Murray basin.
Previous Trip Analysis
Above Tom Groggin
All river flow data was taken from Biggara using historical data. All saw decreasing flows during their journey.
My journey between 21 Dec and 24 Dec 2019 had a water level of between 0.228m to 0.259m and flow of 161 to 201 ML/day at Biggara. This was barely enough water and I was dragging the kayak for nearly 50% of the trip. My journey had the lowest water levels by far of all of the trip reports that I have found, flows in the lowest 2% recorded since 1968 and the lowest December flows bar 2006 during the Millennium drought. 🙁
Uncertain on the exact dates, but Xavier Anderson and Jason MacQueen seem to have done the Poplars to Tom Groggin mid-Nov 2019 where there was a height of 0.5m and a flow of around 650 ML/day. No mention of any issues due to low flows.
Mike Bremer, et al, journey took just two days, 14 & 15 Dec 2017 with 4 times the flow. Water level of between 0.620m to 0.640m and flow of 908 to 967 ML/day. No mention of the need to drag their inflatable kayaks, other than over occasional boulders.
Rod Wellington, 6 to 12 Jan 2008. Slightly unclear when Rob past Tom Groggin, but his blog suggests a harder time than I had. Water level of between 0.344m to 0.416m and flow of 269 to 367 ML/day at Biggara. While he had a higher flow, it was likely a heavier kayak and load that resulted in significant amounts of dragging.
James Castrission, et al, in 10 to 15 Nov 2001 took 5 days while facing high flows and frigid temperatures as they pack surfed (no floatation device) their way down. Water levels were between 0.944m to 1.180m and flow of 1674 to 2890 ML/day. One of the highest recorded flows, they suggest class 3 rapids.
Kevin Moody, et al, 26 to 29 Jan 1988, on lilos. Water level of between 0.370m to 0.448m and flow of 229 to 349 ML/day. Even with the higher flow of 349 ML/day, they reported the need to drag their lilos on a regular basis, especially above Tin Mine Ck and in the final sections before Tom Groggin.
Percentile
Flow (ML/Day)
Height (m)
Known Trips
Min
37
0.117
1
107
0.199
5
183
0.293
Alan Davison, 2019
10
242
0.352
25
394
0.46
Kevin Moody, et al 1988; Rod Wellington, 2008
50
752
0.627
Xavier Anderson and Jason MacQueen, 2019
75
1,553
0.875
Mike Bremer, et al, 2017
90
2,761
1.148
James Castrission, et al, 2001
95
3,786
1.328
99
6,601
1.741
Max
22,523
3.318
Rough Height Guidelines
Mostly unpaddable under 0.3m, especially the first half that has only a third of the flow compared to below Leather Barrel Ck.
Some difficulty paddling with multiple groundings / snags on shallow boulders. Some dragging on a few rapids.
Mostly enjoyable paddle in mostly small class 1 rapids, with a couple fun class 2 (?) rapids around Leather Barrel Ck.
(?) Minor flood. Likely manageable, but likely take particular care with the log jams that could act as strainers.
(?) Major flood. Likely extremely dangerous with the amount logs in this creek.
These are based only off a small handful of known trips and should only be used as guidelines. No high flow trips were found.
Murray River Gorge
Level of 0.8m is listed as the minimum level, and 1.0m as a good level on waterwaysguide.org.au and given a class 3/4 grading. The archived Paddle Australia guide recommends 0.8 - 1.8m with the additional note to add 0.35 to the Bigarra readings to estimate the Murray Gorge level.
Most of the previous trip reports seem to have fallen in the 0.4 to 0.8m range as seen at Bigarra, but no indication given on grade. Ro & Josh noted low flows at 0.4 m & 355 ML/Day.
Even never having done any form of rafting / whitewater before, I can safely say the difficulty / grade is not that high at 0.2 m!
Rough Height Guidelines
Likely unpaddable under 0.15m
Paddable with low flows at a lower grade that increases as the flow increases. More portages and dragging required at lower flows
0.45m to 1.5m for class 3/4 whitewater
(?) Minor / moderate flood - check with local guiding companies
(?) Major flood
These are based only off a small handful of known trips and should only be used as guidelines. No high flow trips were found.
Percentile
Flow (ML/Day)
Height (m)
Known Trips
Min
37
0.117
1
107
0.199
Alan Davison, 2019
5
183
0.293
10
242
0.352
25
394
0.46
Rowen Privett and Josh Smith, 2005; Rod Wellington, 2008; Xavier Anderson and Jason MacQueen, 2019
50
752
0.627
75
1,553
0.875
Mike Bremer, et al, 2017
90
2,761
1.148
95
3,786
1.328
99
6,601
1.741
Max
22,523
3.318
Bringenbrong Bridge to Hume Dam
Found less detailed records of this leg even though it is a more commonly done section compared to the upper Murray.
First recorded issues with low flow were from Sarah Davis who started about the same time as me, but skipped the upper section while I was dragging my kayak down from the Poplars. Dates seem to be the 24 to 29 Dec 2019, so this would have had a height of 0.828 to 0.877 m and 570 to 774 ML/Day, flows in the lowest 1% recorded. Digging deeper, Mike Bremer reported some low sections between the Bringenbrong Bridge and Towong back in 23 April 2004, 1.1m and 1440 ML/Day.
Even with limited river data records from Oct 1983, it really shows me how bad this season is with the drought. Hopefully the area gets some badly needed rain before I arrive there in February or March.
Rough Height Guidelines
Some difficult sections with a fair amount of dragging required in many of the shallow rapids.
Mostly enjoyable paddle. Take care with the willow strainers.
(?) Minor flood. Likely manageable, but likely take particular care with any strainers.
(?) Major flood.
These are based only off a small handful of known trips and should only be used as guidelines. No high flow trips were found.
Percentile
Flow (ML/Day)
Height (m)
Known Trips
Min
219
0.637
1
753
0.896
Sarah Davis, 2019
5
1,219
1.038
Xavier Anderson and Jason MacQueen, 2019
10
1,696
1.146
Mike Bremer, 2004; Rod Wellington, 2010
25
2,926
1.373
50
4,573
1.629
Dave Cornthwaite, 2009
75
6,522
1.901
Kevin Moody, 1986; Mike Bremer, 1995; Rowen Privett and Josh Smith, 2005; Peter Wynen & friends, Sept 2006 (?)
90
9,157
2.218
95
11,509
2.468
99
16,824
2.956
Max
41,794
3.552
Additional Resources
Personal Blogs / Trip Reports
Darling River Trips
Maps
Books & Charts
As well as the online references above, the following books and guides will likely prove invaluable to your planning efforts.
There are also a lot of miscellaneous kayaking books for more information or simply for some inspiration in the books section.