Oxley Creek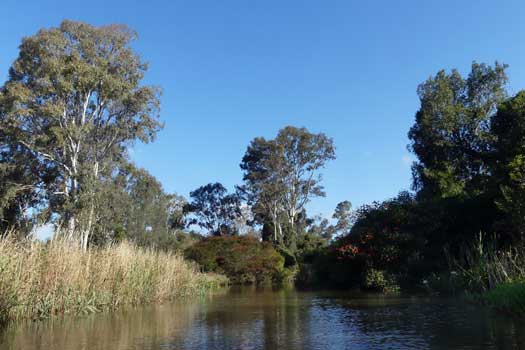 Originally named Canoe Creek after early explorers were loaned traditional Aboriginal canoes to navigate, the creak eventually became known as Oxley Creek after John Oxley. Oxley also named the Brisbane River in honour of the Governor of NSW, Sir Thomas Brisbane. The prison settlement that was founded on the banks of the Brisbane River eventually turned into the city we know today.
While there is little historical evidence left remaining today of the history, the creek is still an interesting paddle up the Mangrove lined tidal waterway that gives way to a mixed forested fringe. In 2016, the Brisbane City Council announced $100 million in funding to revitalise the Oxley Creek corridor. This will likely significantly change the information given over the upcoming years. You can find out more from the Oxley Creek Transformation project website.
What to expect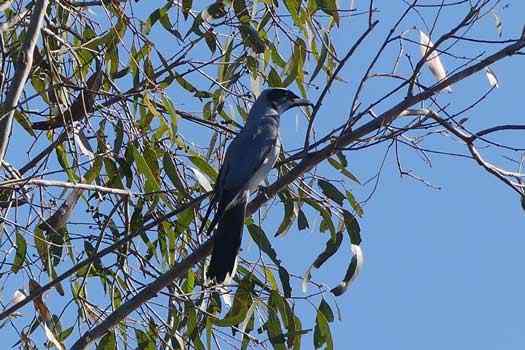 There are few truly urban or industrial sections and in the most part you will be alone in the river with just the wildlife and forested river fringe. The first 5 km are predominantly mangrove dominated and this gives way to a mixed native and introduced forested edge.
Up until Ed Kuepper (Lawson Street) Park, the river should be deep enough to paddle on any tide with minimal obstacles. Above Ed Kuepper Park, expect to find trees across the creek and shallow sections that could require portages. The creek is still tidal up past Ipswich Motorway, so this can assist your passage up or down. I completed the section on a mid-tide height of 1.2 m up to about 600 m above Ipswich Motorway without any shallow sections. I had two portages over logs, and just managed to slip under two other logs at this height.
Being tidal, it pays to plan ahead to catch the right flow for the most enjoyable trip. See below.
Logistics and Tides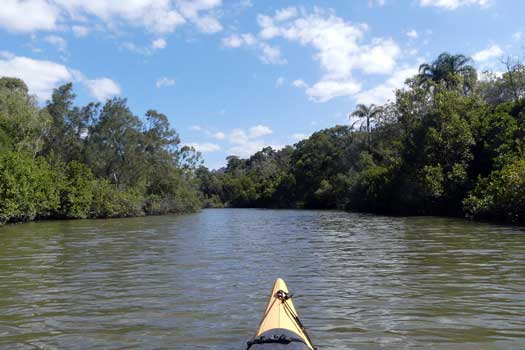 There are multiple put points along the river operated mostly by Brisbane City Council with Oxley Common being run by the QLD government. Oxley Creek Common is reportedly closed overnight.
If carrying a heavy boat, Ed Kuepper Park Canoe Ramp has the easiest portage, otherwise pick the best ramp to get the right tidal flow.
Tidal flows can be moderate, peaking around 1 to 3 kph, so aim to plan your trip to paddle with the tide. It takes time for the tides to push up the river, the high tide at Oxley Creek confluence is 1 hour after the high / low tide at Brisbane Bar (Moreton Bay).
Note the slight discrepancy between the high and low tide times. An incoming tide will push up the river faster than a receding tide, which can sometimes be noticable where paddling against the outgoing tide is marginally easier than going against the incoming tide.
The tidal heights seen at the Brisbane Bar (27° 22' 42.6" S, 153° 9' 45.4" E) directly affect the heights of the river, with an average difference of 1.8 m between low and high tides. The key tide height indicators are:
Highest Astronomical Tide (HAT)

2.73 m

Mean High Water Springs (MHWS)

2.17 m
Mean Sea Level (MSL)

1.306 m

Mean Low Water Springs (MLWS)

0.37 m
The Bureau of Meteorology maintains the official tide tables for Brisbane Bar and the rest of Australia. More detailed Queensland Tide Tables can be downloaded from Maritime Safety Queensland, Queensland Government.
Distance & Tide Table
I've included a few obvious creek crossings that are directly above the Ipswich Motorway, but I do not know if the creek can be paddled along these sections.
Location *
Features †
Tides ‡
Distance
Total
Low
High
R
Brisbane River
1:02
0:59

0 km

0 km

L
Graceville Riverside Parklands
The pontoon and kayak ramp is right at the river mouth,

125 m

from the car park.
Pamphlett Bridge, Graceville / Tennyson
Named after Thomas Pamphlett, one of the three convicts rescued by John Oxley that ultimately helped found Brisbane.
1:02
0:59

0.2 km

0.2 km

Rail Bridge, Graceville / Tennyson
This line is the old Corinda–Yeerongpilly (Tennyson) line that stopped passenger services in 2011.
1:04
1:00

1.5 km

1.7 km

Sherwood Rd Bridge, Sherwood / Rocklea
1:06
1:02

0.5 km

2.2 km

R
Oxley Creek Common, Rocklea
Pontoon is close to

200 m

from the car park.
1:06
1:02

0.2 km

2.4 km

L
Cliveden Avenue Reserve Pontoon, Oxley
Pontoon is

125 m

from the road.
1:14
1:10

5.2 km

7.4 km

L
Ed Kuepper (Lawson Street) Park Canoe Ramp, Oxley
1:17
1:13

2.2 km

9.7 km

Ipswich Motorway, Oxley / Rocklea
1:21
1:16

2.0 km

11.7 km

Beatty Rd Bridge, Willawong / Acacia Ridge

5.1 km

16.7 km

Learoyd Rd Bridge, Willawong

2.4 km

19.2 km

Logan Motorway, Heathwood

7.1 km

26.3 km

Source, Mt Perry

30.9 km

57.2 km
* Side represents either the left / port (L) or right / starboard (R) sides when facing downstream.
† Most of the features were taken from Brisbane City Council pages.
‡ Tide times are offset from the Brisbane Bar (27° 22' 42.6" S, 153° 9' 45.4" E). BoM tide tables. Offsets were estimated above the Brisbane River.
Wildlife
Oxley Creek had some of the most varied wildlife other than that of the upper Brisbane River. Birdlife is abundant, as are turtles and water lizards albeit these tend to be people shy. There is some farmland around Oxley Common and around the Ipswich motorway.
I was too noisy and in too much of a hurry on my trip and I spooked all the turtles that I encountered. They would drive into the water before I could close enough to identify them, but I would assume these were Brisbane Short-necked Turtles that are common on the Bremer River and upper Brisbane River.
Snakes are rarely and randomly seen in Australian rivers. They are easily startled in the water and will quickly dive underwater or rush to the banks if distrubed. I was lucky enough to encounter a harmless tree snake having a swim when I explored this creek.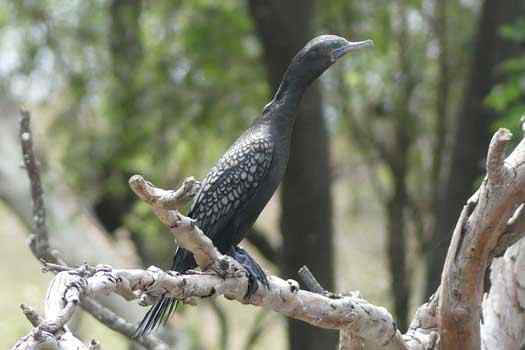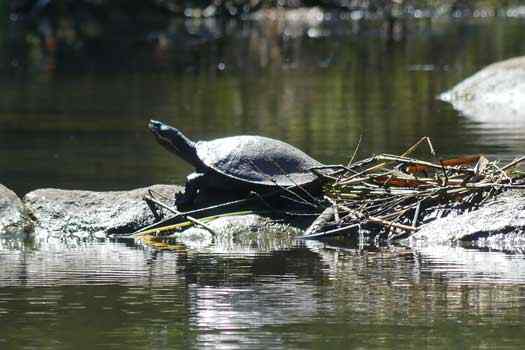 Safety
Tidal flows can be noticed. If going against the tide, plan for 1 - 2 kph flow. Otherwise, follow standard kayaking safety procedures and enjoy the trip!
Map
Explore the key locations in the map below. Most locations will have a photograph that can be seen by clicking on the icon or number in the map itself.
Pamphlett Bridge
Rail Bridge
Sherwood Rd Bridge
Ipswich Motorway
Beatty Rd Bridge
Learoyd Rd Bridge
Logan Motorway
Kayak Ramp or Paths
Viewpoints