Lake Moogerah
Moogerah Dam
What to expect
Lake / Reservoir
Lake Moogerah
Dam / Weir
Moogerah Dam
River
Reynolds Creek
Capacity
83.8 GL
Flood Mitigation
Area
Shoreline
Catchment
Lake Moogerah is an inland lake that is popular over summer with fishermen and campers escaping the QLD heat. The lake is mostly surrounded by farmland with small sections backing up into national parks. Excellent views of Mount Greville and Mount Alford can be found from almost everywhere on the lake.
Moogerah Dam is primarily used for irrigation purposes around Boonah and feeds to both Reynolds and Warrill creeks. As such, water levels can drop significantly in the dry.
The lake is approximately 4 km long and 2 km wide. It is a fairly shallow lake so you may have to traverse the shoreline a bit further out than normal to avoid sticking your paddle into the lakebed
Features and facilities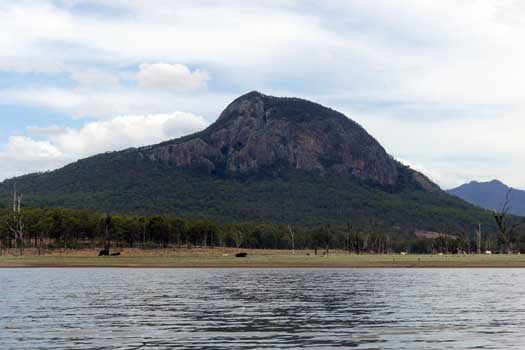 There are two boat ramps located at AG Muller Park (Lake Moogerah Caravan Park) and one could launch with care from Fred Haigh Park. Camp Moogerah has a private boat ramp for guests that are staying there.
Fred Haigh Park is open to the public seven days a week at the time of writing, from 5:30am to 6:30pm (September – April) and 6:00am to 5:30pm (May – August).
AG Muller Park is within the privately run Lake Moogerah Caravan Park and can be accessed free of charge during the day. The caravan park has a boom gate across the entry, so you need to pop in to get the pin used to enter and exit the park. This pin changes daily around 6pm.
Refer to the SEQWater Lake Moogerah guide for up to date information.
Location
Features †
Distance ‡
Boat Ramp #2
Dam Spillway

3.2 km

Fred Haigh Park

2.9 km

Camp Moogerah (guests only)

2.7 km

AG Muller Park Boat Ramp 1

0.6 km

AG Muller Park Boat Ramp 2
-
Reynolds Creek

2.4 km

Coulson Creek

2.6 km

Sandy Creek

4.0 km
† Most of the features were taken from SEQWater published Location maps and guides.
‡ Distances are approximate only and are based on roughly staying near the shoreline with a 500 m crossing to get to the dam, Fred Haigh Park and Sandy Creek.
Map
Explore the key locations in the map below. Most locations will have a photograph that can be seen by clicking on the icon or number in the map itself.
Spillway
Fred Haigh Park
Boat Ramps
Viewpoints
What to take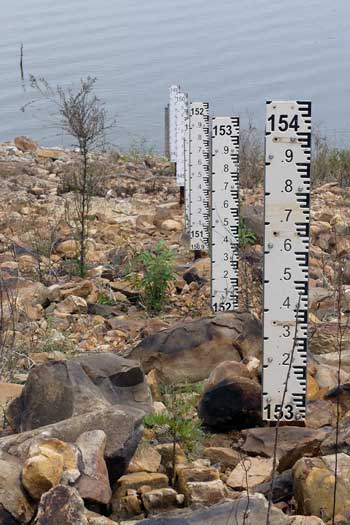 Ensure electronic devices and gear have waterproof containers / dry bags if needed.
What to wear
Sunscreen / Chapstick *
Sunglasses *
Hat *
Swimwear or shorts †
Sun protective clothing (rashie) †
Water shoes †
What to take
Water
Snacks
Phone
Camera
Watch
Sponge
Rain jacket
Spare clothes / Towel
Safety
PDF (life jacket) *
Whistle
Paddle float ‡
Bilge pump ‡
Paddle lease *
Spare paddle
Light (night paddling)
* Highly recommended (aka required)
† You should wear clothing and footwear that you can comfortably swim in.
‡ These are for self or assisted rescues as there are places that you can't easily swim back to the shore.

Wildlife
There is a wide variety of birdlife on the lake and you could be lucky and see some turtles. Livestock is common around the lake.