Bulimba Creek
What to expect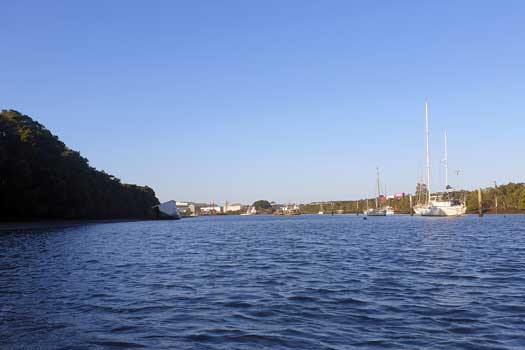 Aquarium Passage is an interesting paddle past various yachts and houseboats in a wide range of ages and conditions. Various abandoned and decaying boats can litter the passage in places.
Soon you leave the industrial area and the journey continues onwards through a tidal stream lined with mangroves.
Logistics and Tides
Bulimba Creek is approximately halfway between the Port of Brisbane and Gateway motorway. The best access is likely around Preston Road Park Canoe pontoon.
Towards the mouth of the river, shallow mud flats are exposed with the low tides. Aim to stay closer to the main channel to avoid a paddle coated in mud.
Distance & tide table
Location *
Features †
Distance
Total
Brisbane River, Murarrie / Hemmant

0 km

0 km

R
Hemmant (Aquarium Ave) Boat Ramp, Hemmant

1.4 km

1.4 km

R
Fleming Rd Canoe Ramp (Hemmant Quarry Reserve), Tingalpa

6.5 km

8.0 km

L
Murarrie Recreation Ground Canoe Ramp, Murarrie
Approximately

200 m

from the car park to the ramp.

5.4 km

13.4 km

L
Preston Road Park Canoe pontoon, Carindale
Part of Minnippi Parklands.

5.8 km

19.2 km

Meadowlands Rd
Roughly the estimated end of the easy paddling based on aerial photographs.
Source, Stretton

21.2 km

40.4 km
Map
Explore the key locations in the map below. Most locations will have a photograph that can be seen by clicking on the icon or number in the map itself.
Bulimba Creek (Aquarium Passage)
Boat Ramp
Kayak Ramp or Paths
What to take
Ensure electronic devices and gear have waterproof containers / dry bags if needed.
What to wear
Sunscreen / Chapstick *
Sunglasses *
Hat *
Swimwear or shorts †
Sun protective clothing (rashie) †
Water shoes †
What to take
Water
Snacks
Phone
Camera
Watch
Sponge
Rain jacket
Spare clothes / Towel
Safety
PDF (life jacket) *
Whistle
Paddle float ‡
Bilge pump ‡
Paddle lease
Spare paddle
Light (night paddling)
* Highly recommended (aka required)
† You should wear clothing and footwear that you can comfortably swim in.
‡ These are for self or assisted rescues where you can't easily reach the shore.

Safety
Tidal flows can be noticed. If going against the tide, plan for 1 - 2 kph flow. Otherwise, follow standard kayaking safety procedures and enjoy the trip!
Wildlife
While there is more of an industrial feel to the lower section, there is still a relatively healthy wildlife population to be found as you head upstream.