Brisbane River
Mt Crosby to Moreton Bay
The ultimate kayaking trip in SE Queensland must be that of the Brisbane River as it flows through the heart of the River City. With many publicly accessible boat ramps, kayak ramps and pontoons, you can tackle this section of river at your own pace.
The river is tidal and generally fairly wide, from 100 m to over 0.5 km wide at its mouth. Large freight tankers and even cruise ships could be encountered below Northshore / Colmslie, but can be safely paddled by most if you stay near the shoreline away from the main traffic on the river.
There are multiple put-in points along the river depending on your plans and time. Frequent mooring points at many of the city's top highlights allow you to get out and explore the city from the river too.
What to expect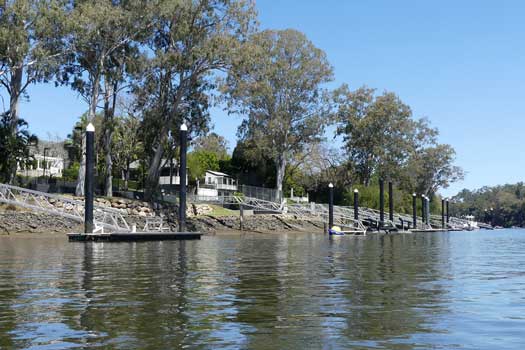 The first 35 km below Mt Crosby Weir are fairly rural but you will never truly find zones without at least a few houses along the banks. The next 40 km is characteristically urban, especially from St Lucia to Newstead. The final 15 km are fairly industrial which is not that surprising since it is a major shipping port.
The river is fairly wide and very deep in places. The average is around 250 m and closer to 0.5 km wide towards the Port of Brisbane. Only travel as far out as either you can safely swim back to shore unless you can roll or otherwise self-rescue. If you had to choose one side, I would recommend the southern side of the river from below Eleanor Schonell Bridge (Dutton Park, St Lucia).
Being tidal, it pays to plan ahead to catch the right flow for the most enjoyable trip, especially when doing side trips up any tributaries. The tidal nature of the river is also the cause of the thick sticky mud that you should try to avoid, particularly in the upper sections. Tidal flows peak at around 2 to 4 kph, but if needed you can hug the inside banks to avoid some of this current.
Logistics and tides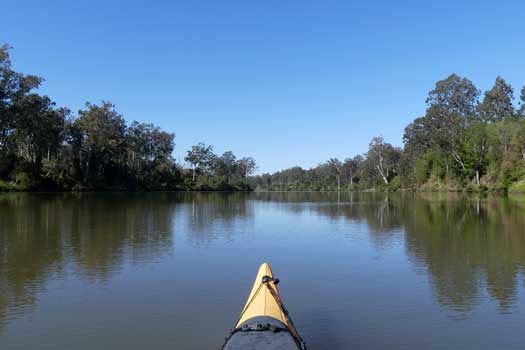 There are multiple put points along the river operated mostly by either Brisbane City Council or Ipswich City Council. Most places are open 24 hours with the exception of the Ipswich City Council run parks that tend to be closed overnight.
The following are likely the better spots to put in, but there are many other locations that you can use too. Refer to the Distance Table and Interactive Map to find many of the other options that you can use.
Parking could be tricky if parking and launching from around the central business district, between South Brisbane and New Farm. Dutton Park could be hard to find a park due to its close proximity to the University of Queensland.
4 km

Colleges Crossing, Chuwar (Mt Crosby)

9 km

Kookaburra Park, Karana Downs

13 km

Riverside Park, Karalee

18 km

Joseph Brady Park, Barellan Point

27 km

Richardson Park, Goodna

32 km

Newcomb Park, Riverhills

39 km

Jindalee Boat Ramp

44 km

Fig Tree Pocket Boat Ramp

52 km

Graceville Riverside Parklands
54 km

Sir John Chandler Park, Indooroopilly

58 km

Harmony Gardens, Dutton Park

61 km

Orleigh Park, West End

64 km

South Brisbane Riverside Lands Park

68 km

City Botanic Gardens; C. T. White Park, Kangaroo Point

72 km

New Farm Park River Hub

75 km

Newstead Park; Vic Lucas Park, Bulimba

79 km

Colmslie Park, Morningside; Northshore Park, Hamilton

90 km

Port of Brisbane Boat Ramp
There are a number of tributaries that can serve as your base when exploring the river too. These locations will likely be quieter than the Brisbane river. These include the Bremer River, along with Oxley, Norman, Breakfast (Enoggera), and Bulimba (Aquarium Passage) creeks.
Tidal flows can be strong, so aim to plan your trip to paddle with the tide. It takes time for the tides to push up the valley, the high tide at College Crossing is 3 hours after the high tide at Brisbane Bar! Refer to the distance table for tidal offsets for most locations. Note the slight discrepancy between the high and low tide times. An incoming tide will push up the river faster than a receding tide.
The tidal heights seen at the Brisbane Bar (27° 22' 42.6" S, 153° 9' 45.4" E) directly affect the heights of the river, with an average difference of 1.8 m between low and high tides. The key tide height indicators are:
Highest Astronomical Tide (HAT)

2.73 m

Mean High Water Springs (MHWS)

2.17 m
Mean Sea Level (MSL)

1.306 m

Mean Low Water Springs (MLWS)

0.37 m
The Bureau of Meteorology maintains the official tide tables for Brisbane Bar and the rest of Australia. More detailed Queensland Tide Tables can be downloaded from Maritime Safety Queensland, Queensland Government.
Distance & tide table
Over 50 key locations are listed below, including distance and tidal offsets. At least three more pedestrian bridges for the main CBD zone and nine more boat ramps or pontoons are being planned at the time of writing. The boat ramps or pontoons options that are currently being planned are noted below the table.
The most significant development on the river currently will be the Queens Wharf redevelopment that will create a Southbank Parklands experience on the CBD side of the river!
Location *
Features †
Tides ‡
Distance
Total
Low
High
Mount Crosby Weir
n/a
n/a

0 km

0 km

Old Mt Crosby Weir
n/a
n/a

0.8 km

0.8 km

R
Colleges Crossing Boat Ramp
3:20
2:47

3.5 km

4.3 km

L
Kookaburra Park (Karana Downs) Boat Ramp
3:08
2:41

4.7 km

8.9 km

R
Riverside Park Boat Ramp
2:57
2:35

4.2 km

13.2 km

R
Bremer River
2:44
2:29

4.9 km

18.0 km

R
Joseph Brady Park
Moggill Ferry
2:40
2:27

1.3 km

19.3 km

R
Richardson Park Boat Ramp
2:20
2:07

7.1 km

26.5 km

R
Newcomb Park, Riverhills
2:01
1:58

5.5 km

31.9 km

R
Jindalee Boat Ramp
1:33
1:30

6.5 km

38.5 km

Jindalee Bridge
1:30
1:27

2.0 km

40.5 km

R
Amazons Place Park, Sinnamon Park
L
Fig Tree Pocket Boat Ramp
1:25
1:22

3.7 km

44.2 km

R
Horace Window (Carrington Rocks) Reserve, Corinda
Right beside the boating club.
1:24
1:23

0.6 km

44.8 km

Walter Taylor Bridge
1:20
1:17

3.9 km

48.7 km

R
Oxley Creek
1:02
0:59

2.8 km

51.6 km

R
Graceville Riverside Parklands
The pontoon and kayak ramp is right at the Oxley River mouth.
R
Ken Fletcher Park, Tennyson
In between the river and Queensland Tennis Centre
1:00
0:57

1.1 km

52.7 km

L
Sir John Chandler Park (Indooroopilly) Boat Ramp
0:58
0:54

1.2 km

53.9 km

Eleanor Schonell Bridge
0:52
0:49

4.3 km

58.2 km

R
Pontoon, Harmony Gardens / Dutton Park
0:52
0:49

0.1 km

58.3 km

L
Boatshed Pontoon
0:51
0:49

1.2 km

59.5 km

L
Canoe Ramp RA6022
0:49
0:45

1.3 km

60.8 km

R
Orleigh Park
0:48
0:45

0.4 km

61.2 km

R
South Brisbane Riverside Lands Park (Peace Mile)
0:45
0:42

2.3 km

63.5 km

Go Between Bridge
0:45
0:42

0.3 km

63.9 km

Merivale Bridge
0:45
0:41

0.1 km

64.0 km

William Jolly Bridge Bridge
0:44
0:41

0.3 km

64.2 km

Kurilpa Bridge
0:44
0:41

0.3 km

64.5 km

Victoria Bridge
0:43
0:40

0.5 km

65.0 km

R
Southbank Boat Mooring (B)
There are three mooring points along Southbank Parklands. Marked A, B and C.
Goodwill Bridge
0:42
0:39

1.1 km

66.0 km

Pacific Mwy Bridge
0:42
0:38

0.3 km

66.3 km

R
Kangaroo Point Cliffs Park Boat Ramp
About

300 m

into the park.
0:41
0:38

0.6 km

66.9 km

L
City Botanic Gardens River Hub
0:41
0:37

0.5 km

67.4 km

R
C. T. White Park Kayak Ramp
0:40
0:37

0.2 km

67.6 km

Story Bridge
The beach just downstream on the right at Captain Burke Park could be used for a short lunch or interlude.
0:39
0:37

0.9 km

68.6 km

R
Mowbray Park, East Brisbane
0:32
0:32

1.8 km

70.4 km

L
Merthyr Park, New Farm
You can also pull up onto the small beach.
R
Norman Creek
0:31
0:31

0.6 km

71.0 km

L
New Farm Park River Hub
0:31
0:31

0.8 km

71.8 km

R
Vic Lucas Park Canoe Ramp, Bulimba
0:25
0:25

3.3 km

75.0 km

L
Newstead Park
L
Breakfast (Enoggera) Creek
L
Kingsford Smith Drive (Bretts Wharf) Recreation Hub, Hamilton
0:23
0:23

1.5 km

76.5 km

R
Colmslie Recreation Reserve Boat Ramp, Morningside
0:20
0:20

2.1 km

78.6 km

L
Northshore Riverside Park
R
Murarrie Recreation Hub
0:18
0:18

1.5 km

80.1 km

Gateway Bridge
0:17
0:17

0.3 km

80.4 km

R
Bulimba Creek
0:14
0:14

3.4 km

83.8 km

L
Kirra Street Boat Ramp, Pinkenba
0:13
0:13

1.7 km

85.4 km

Port of Brisbane Boat Ramp §
0:03
0:04

3.4 km

89.8 km

Brisbane Bar §
0:00
0:00

4.9 km

90.4 km
* Side represents either the left / port (L) or right / starboard (R) sides when facing downstream.
† Most of the features were taken from Ipswich or Brisbane City Council pages.
‡ Tide times are offset from the Brisbane Bar (27° 22' 42.6" S, 153° 9' 45.4" E). BoM tide tables.
§ Distances to the Port Brisbane Boat Ramp and Brisbane Bar are independently calculated from Kirra St Boat Ramp. Navigating to the Brisbane Bar via a paddle craft is not recommended.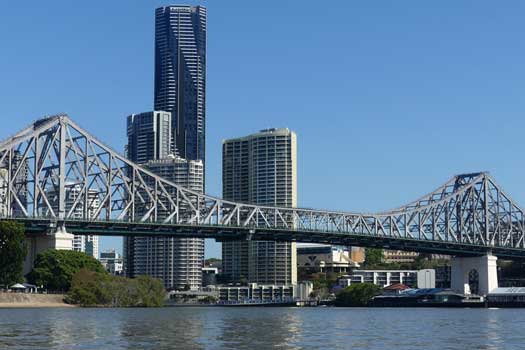 Naval Stores, Kangaroo Point Cliffs Park, is listed as an existing river mooring spot for passive craft, but I didn't notice where you would moor while paddling past although I may have confused the public pontoon / dock with the private kayaking company operating from here.
The river is under very active development by the Brisbane City Council and they have ear-marked more sites that could be developed further. While the following sites have been earmarked for possible development, they are currently undeveloped or even still under private ownership at the time of writing.
Boundary Street

Opposite UQ

Former ABC site

Small park at Toowong

Queens Wharf

Direct access into the CBD. This should be integrated in the new development that is currently underway.

Five new locations between New Farm and Newstead parks

These include Teneriffe, Sir Manuel Hornibrook Park, Catalina Parks (left side) and Bulimba, Hardcastle Parks (right side)

Bulimba Barracks

Opposite Bretts Wharf. This is currently under Defence Force control so do not land here!
Access Restrictions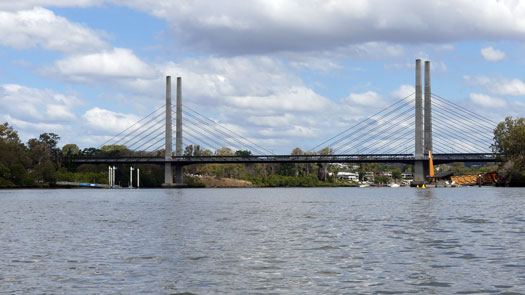 No access 100 m above and 200 m below any weir in Queensland, including the Old Mt Crosby Weir. The majority of the river will be bordered by private property, but there are many parks and other areas that are publically accessible to get out and explore as you make your way down.
Refer to the QLD Governments Recreational boating and fishing guide for the most up to date information regarding closed waterways.
Map
Explore the key locations in the map below. Most locations will have a photograph that can be seen by clicking on the icon or number in the map itself.
Bremer River
Centenary Bridge
Walter Taylor Bridge
Oxley Creek
Eleanor Schonell Bridge
Go Between Toll Bridge
Merivale Bridge
William Jolly Bridge
Kurilpa Bridge
Victoria Bridge
Goodwill Bridge
Captain Cook Bridge
Story Bridge
Norman Creek
Breakfast Creek
Sir Leo Hielscher (Gateway) Bridges
Bulimba Creek (Aquarium Passage)
Captain Bishop Bridge
Boat Ramps
Ferry
Kayak Ramp or Paths
Viewpoints
Weir or Low Head Dams
What to take
Ensure electronic devices and gear have waterproof containers / dry bags if needed.
Ensure electronic devices and gear have waterproof containers / dry bags if needed!
What to wear
Sunscreen / Chapstick *
Sunglasses *
Hat *
Swimwear or shorts †
Sun protective clothing (rashie) †
Water shoes †
What to take
Water
Snacks
Phone
Camera
Watch
Sponge
Safety
PDF (life jacket) *
Whistle (or even a fog horn) *
Paddle float ‡
Bilge pump ‡
Paddle lease
Light (required at night)
Additional §
Spray skirt
Spare paddle
Paddle lease
Marine Radio / PLB
Rain jacket
Spare clothes / Towel
* Required
† You should avoid clothing and footwear that is difficult to swim wearing.
‡ These are for self or assisted rescues where you can't easily reach the shore.
§ For longer days or for more open / rougher conditions

Safety
The lower Brisbane River is one of the most dangerous rivers in Australia, particularly with people swimming or falling into the river when they are intoxicated. It is also a big, strong and fast tidal river that should not be under-estimated. The riverway is busy and care should be taken with all other watercraft at all times. This is especially true between the Eleanor Schonell Bridge at St Lucia and Northshore Hamilton that are serviced by regular CityCats and ferries.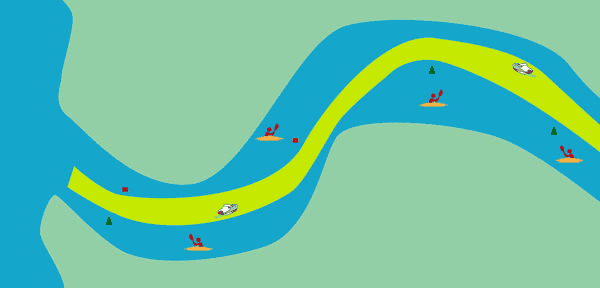 It is because of this that the main shipping channel in the river should be avoided in general. This is indicated with green and red buoys as shown in the picture. When heading downstream, green buoys mark the left (port) side of the shipping channel and red buoys mark the right (starboard) side of the channel. In a kayak, avoid this channel when possible!
Any rocks of concern should be indicated with red or green navigational signs used to indicate the main navigation channel too, but expect to find the occasional unmarked rock if you are hugging the shoreline.
It is recommended that you:
Wear highly visible gear and use a PFD / lifejacket.
By law you must carry light at night that you can quickly use if required. Better still, use fixed navigational lights.
To travel in a group where possible to maximise your visibility.
Stay close to the river edges and to limit any crossings to longer straight sections where it is safe to quickly cross.
Be prepared for the wakes that can be caused by other watercraft, this can get fairly bumpy and easily capsize you if you are unaware.
While still a river, it has wide open sections that can get choppy in places when it is windy. Strong headwinds will slow your trip.
Assume all other craft don't see you and give them right of way.
If another boat is coming directly for you, head to the closest bank or head right (starboard) as per the international rules of shipping. Turning will also increase the likelihood that they can see you. Using a light, fog horn or whistle could prevent a collision if they still fail to notice you!
Tidal flows can get strong. Some suggest these can get to about 8 kph in places mid-tide, which is faster than the top speeds of many recreational kayaks. Trying to battle though this will create a great training session, but likely a less enjoyable trip. I personally only saw a current that was around 1 - 3 kph but I did always time my trips with the incoming or outgoing tides. Note that the force of a current like this will easily pin or trap you to structures such as low wharves or fallen trees with potentially fatal consequences. The risk is low on the Brisbane river but it is something to be aware of. Always ensure that you can comfortably paddle away from or around objects in your path.
Finally a quick mention about wildlife. It probably is not the best idea to swim or dangle your feet in the river as Bull Sharks are known to frequent the river, especially juvenile sharks. They should not cause you any concerns if you stay in the kayak. Snakes could be found in more isolated areas during the warmer months, however you usually have to be fairly quiet and attentive to get the chance to see these on the water.
Wildlife
There is a wide variety of birdlife still on the river but you have to search much harder for these on the wider river compared to the river above Kholo Gardens. Reptiles were rare, a couple of snakes and a dozen or so water lizards. The only native mammal seen below Mt Crosby was a fleeting glance of an echidna as it scurried away into the tall grass. The popular Colleges Crossing is rich in birdlife, particularly egrets, herons, pelicans, swans, ducks, cormorants, rails and coots.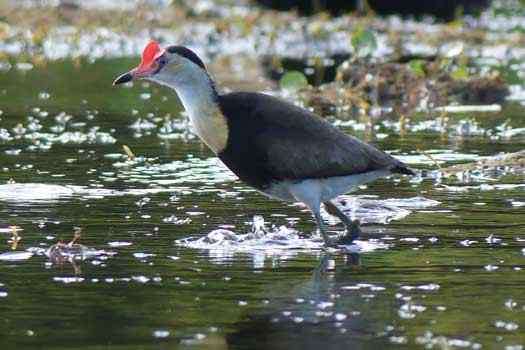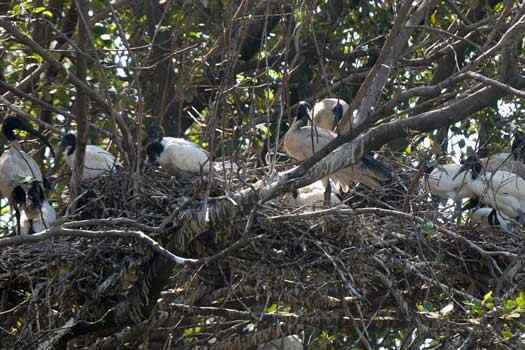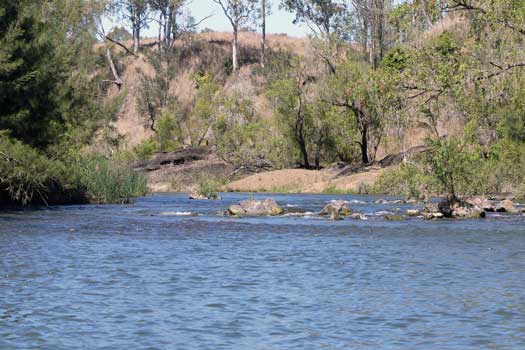 The upper Brisbane River has 55 km of flowing freshwater river to explore below Lake Wivenhoe down to Kholo Bridge. Suited to most levels of ability over a two or three day trip. Note that there is a 9 km stretch of the river that has restricted access between Kholo Bridge and Mt Crosby Weir.
Refer to the Upper Brisbane River page for details.
Tributaries
The paddlable tributaries of the Brisbane River are also tidal and are best done with a high tide. They make an interesting side-trip to any exploration of the river by kayak.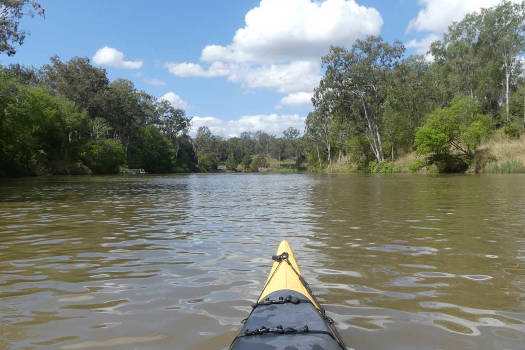 The Bremer River has 24 km of tidal riverways to explore that provides a quiet and tranquil kayaking trip for paddlers of all levels of ability.
The Bremer River mouth is just before the Moggill Ferry and passes through the Ipswich CBD.
Refer to the Bremer River page for details.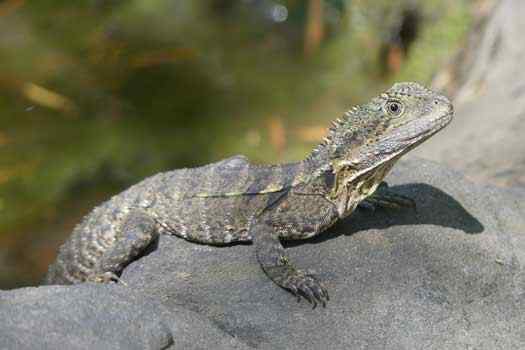 There is a lot of local history packed into the naming of many features of this creek. While there is little historical evidence left remaining today of the history, the creek is still a quiet and tranquil kayaking trip for paddlers of all levels of ability up the Mangrove lined tidal waterway with abundant wildlife.
Oxley Creek confluence is upstream of the Brisbane CBD.
Refer to the Oxley Creek page for details.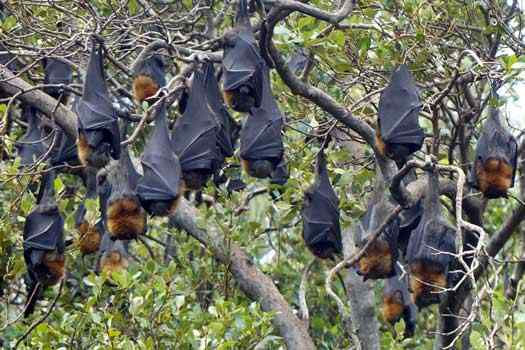 A tranquil and sometimes intimate journey through some peoples backyards! A healthy Australian white ibis (Threskiornis molucca) and flying fox colonies were some of the highlights of the short tributary.
Norman Creek is downstream of the Story Bridge and separates the suburbs of East Brisbane and Norman Park.
Refer to the Norman Creek page for details.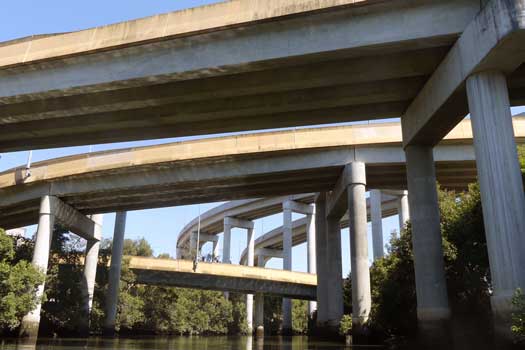 Situated in Newstead, 10 km downstream from the CBD, this small creek has multiple characteristics from a concrete industrial river up past Spaghetti Junction (pictured) before heading into more park / suburbian riverscapes.
Refer to the Breakfast and Enoggera creeks page for details.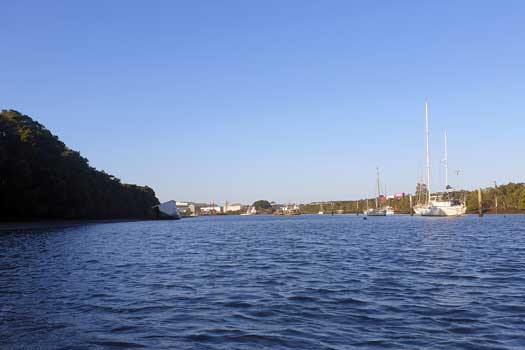 Aquarium Passage is an interesting paddle past various yachts and houseboats in a wide range of ages and conditions. Soon you leave the industrial area and the journey continues onwards through a tidal stream lined with mangroves.
Bulimba Creek is approximately halfway between the Port of Brisbane and Gateway motorway.
Refer to the Bulimba Creek page for details.