Breakfast and Enoggera Creeks
What to expect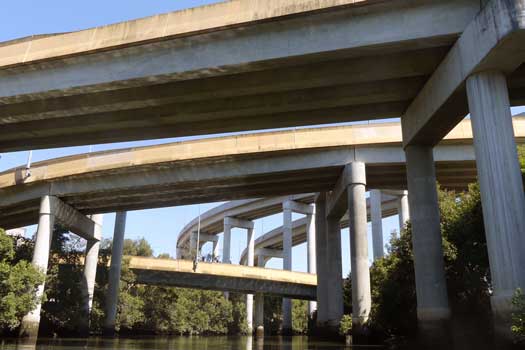 Situated in Newstead, 10 km downstream from the CBD, this small creek has multiple characteristics. At its mouth it has one of the council's boat mooring locations. This is followed by an industrial section with an Australian white ibis (Threskiornis molucca) colony. Shortly afterwards, you get an unusual view looking up at Spaghetti Junction before heading into more park / suburbian riverscapes upstream.
Enoggera Creek (upstream) turns into Breakfast Creek (downstream) where the North Coast railway line (Petrie, Sandgate, Airport lines) crosses the river at the borders of the three suburbs, Albion, Bowen Hills and Windsor. It is frequently labelled incorrectly on many maps.
Logistics and Tides
This is an interesting side trip when paddling the Brisbane River, but can be done as a short trip by itself. Boat ramps near the mouth should provide the easiest access and a high tide is recommended if heading up past Spaghetti Junction.
Distance & tide table
Location *
Features †
Distance
Total
Brisbane River, Newstead

0 km

0 km

R
Newstead Park
You could launch from the pontoon on Brisbane River
R
Ross Street Canoe Ramp, Newstead

0.5 km

0.5 km

L
Yowoggera Park Boat Ramp, Albion

0.8 km

1.3 km

North Coast railway line

0.8 km

2.1 km

Spaghetti Junction

1.6 km

3.7 km

Enoggera Rd
Roughly the estimated end of the easy paddling based on aerial photographs.

3.1 km

6.8 km

Source, Mount Nebo

34.2 km

41.0 km
Map
Explore the key locations in the map below. Most locations will have a photograph that can be seen by clicking on the icon or number in the map itself.
Breakfast Creek
Inner City Bypass
Burrows Rd Bridge
North Coast Railway Bridge
Railway Bridges
Spaghetti Junction
Kayak Ramp or Paths
What to take
Ensure electronic devices and gear have waterproof containers / dry bags if needed.
What to wear
Sunscreen / Chapstick *
Sunglasses *
Hat *
Swimwear or shorts †
Sun protective clothing (rashie) †
Water shoes †
What to take
Water
Snacks
Phone
Camera
Watch
Sponge
Rain jacket
Spare clothes / Towel
Safety
PDF (life jacket) *
Whistle
Paddle float ‡
Bilge pump ‡
Paddle lease
Spare paddle
Light (night paddling)
* Highly recommended (aka required)
† You should wear clothing and footwear that you can comfortably swim in.
‡ These are for self or assisted rescues where you can't easily reach the shore.

Wildlife
Minimal wildlife was seen on Breakfast Creek but I would expect this to change as you head upstream on Enoggera Creek past Spaghetti Junction. A large colony of Australian White Ibis was seen near the rail yards.