Tumut
Possible alternative start of the lower section rather than from Jugiong. It is the Tumut River that feeds the baseline flow for most of the season from the hydro scheme. Aerial images suggested an easy route along the valley below the dams and Waterway Guides confirmed this as a long two day Grade I section from Tumut Township to Gundagai (links below).
The upper sections are within Kosciuszko National Park, but WaterNSW maintains sections at Blowering Dam. Additional information can be obtained from Hume and Hovell Track Website that intersections the Tumut River between Blowering Reservoir and Jounama Pondage.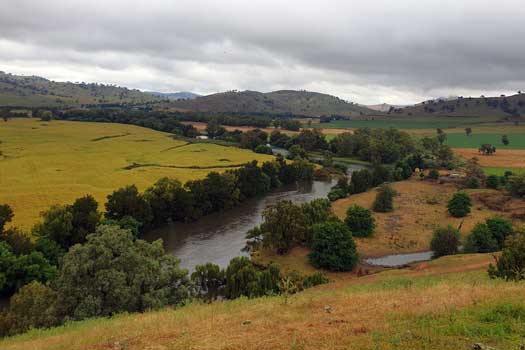 Upper Tumut

Fully in the remote upper Kosciuszko National Park region with minimal details. Grey Mare Trail crosses the Tumut very close to the source on the slopes at Mount Jagungal in the High Plains area of the park. Below the Tumut Pond Reservoir, you cross into the Tumut area of the park. Placeholder pages without details (as of July 2020) can be found for above and below the reservoir.

Talbingo Reservoir

A

26 km

paddle down the lake from Elliot Way to the dam wall. Portage across the dam is from a boat ramp off Murray Jackson Drive on the eastern (right) side.
Short section between the two main dams where the Jounama Pondage is found beside the small town of Talbingo. Apparently there is no access allowed, so expect a

15 km

shuttle or portage along the road.

Blowering Reservoir

Blowering Reservoir would provide about a

20 km

paddle along the lake that lies partially within Kosciuszko National Park.
Narrow and fast flatwater paddling mostly down to Tumut (

26 km

). Stay with the main channels to avoid willow trees.
Fast flatwater down to the Murrumbidgee River (

52.5 km

) and before paddling down the Murrumbidgee River to Gundagai (

21 km

).