Locks and Weirs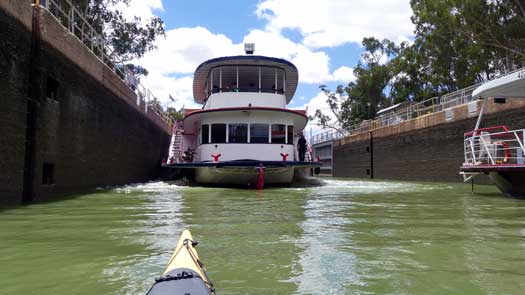 Water is a very good servant, but it is a cruel master.
There has been a series of weirs and dams built on the Murray River to ensure boat navigation and secure water supplies within the basin. Barrages were also built across the entrance of Lake Alexandrina. All of the weirs on the lower sections and two of the barrages (Goolwa and Tauwitchere) have locks that allow boats to travel up and down the river. Hume Dam and Yarrawonga Weir do not have locks and portages are required.
I have compiled key information about each lock along with some other useful information in the table at the bottom on this page. Lock opening hours and operator numbers can be found on signage located near the locks with the exception of the Tauwitchere Barrage Lock that is self-operated.
Updated information for SA maintained locks and the barrages can be found on the SA Water website or by calling the SA Water Berri office on 08 8595 2222. General enquiries for the rest can be done by calling the respective Lock Masters for each lock or NSW Water on 1300 662 077.
Hume Dam
Portage for the dam is up the public boat ramp prior to both the caravan park and the dam. It is a long portage, nearly 2 km up and over the hill at Lake Hume Village and down Trout Farm Road to the park at the bottom of the hill.
Expect to take up to an hour for the portage depending on your setup. Trolleys are recommended if you can't organise anyone to give you a lift!
Yarrawonga Weir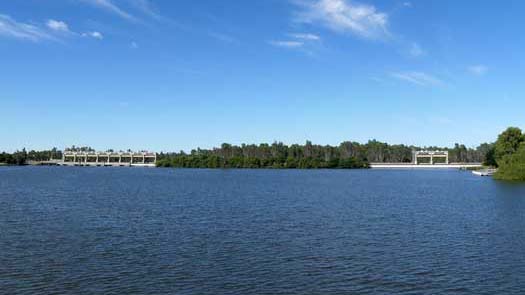 This is the second of the two portages on the Murray River, 700 m. From here you will have locks on all weirs.
The portage is on the left, on the Yarrawonga (VIC) side. Follow the road around and across the train tracks / channel and keep going straight into the Yarrawonga Caravan Park. A public boat ramp can be found just past the camp office. Considering the length of this portage, a trolley or a pre-organised lift are recommended!
Other Weirs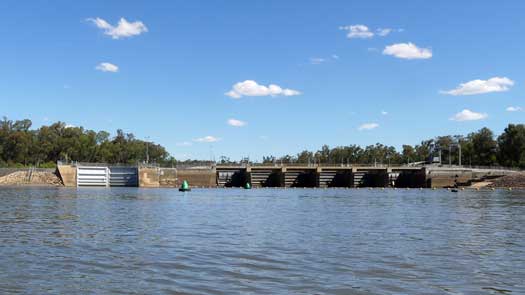 All of the lower weirs have locks, and you can access these during operating hours for 364 days a year, closing only for Christmas. There is no charge for accessing the locks during operating hours.
At Mildura, they use a formal schedule of down on the hour and up on the half hour. Other weirs are much less busy and you can call though on your mobile once you get close and you usually will be let down without any significant delay. Three prolonged blasts (4 seconds each) on a whistle or horn can be used if you can not ring the Lock Master.
The general procedure for all locks are to: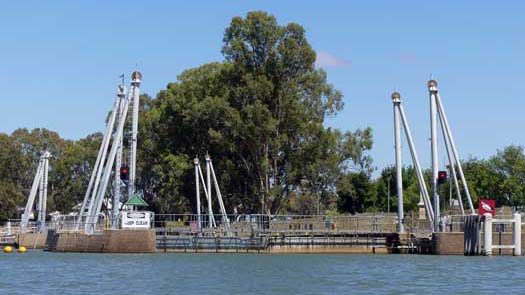 Call or signal the Lock Master.
Locate the lock on the weir, the buoys will direct you to the lock as will the triangular green and square red signs. When heading downstream, these mark the left and right sides of the lock respectively. Many locks have gate cranes that make finding the lock from a distance easy.
Flashing red light will indicate that the lock master is preparing the lock.
Do not approach until you get a flashing green light or when the red traffic light goes green, but watch the Lock Master as they may signal kayakers in as the gates are opening and the lights are still red.
Enter and either go to a position where directed or stop near the Lock Master for a chat.
You may request a rope to hold onto if you feel unstable within the lock.
Once the lock has fallen or risen and the gate has been opened, a green light signals it is safe to exit. Again kayakers can pop out early. Wait until the gate is opened at least a couple of metres as the water can still be fairly turbulent as excess water floods out / into the lock.
On the Telstra network in 2020, the only lock where I couldn't call on my mobile was lock 8 but the Lock Master saw me coming and let me through.
Lake Alexandrina Barrages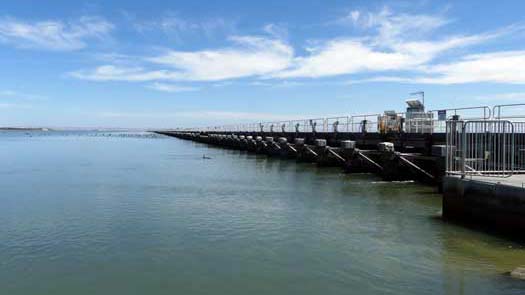 Barrages at the river mouth prevent an influx of salt water into Lake Alexandrina. There are a number of barrages, but only two locks are present and operational.
Goolwa Barrage is similar to all of the other weirs on the river, with a Lock Master letting you down.
Tauwitchere Barrage has a lock that is self-operated, thus open 24 hours.
Name
Height*
Lock†
River Leg§
Num
Number
Hours
Portage‡
Distance
Drop
Slope
Hume Dam

42 m

Required, see notes above

212 km

71 m

0.33‰
Weirs
Yarrawonga

8.0 m

Required, see notes above

218 km

30 m

0.14‰
Torrumbarry

6.2 m

26
03 5487 2900
8:00-12:00
13:00-16:00
Left? Via Torrumbarry Weir Road.

348 km

32 m

0.09‰
Euston

5.0 m

15
03 5026 4005
8:00-12:00
13:00-16:00
Right, steep bank downstream

480 km

34 m

0.06‰
Mildura

3.7 m

11
03 5023 1396
8:00-12:00
13:00-16:00
Left? Through the park or a much longer way along the road.

218 km

10 m

0.04‰
Wentworth

3.4 m

10
03 5027 3190
8:00-12:00
13:00-16:00
Right? Steep rocky bank.

54 km

0.3 m

0.01‰
Kulnine

2.8 m

9
03 5028 2235
8:00-11:30
13:00-16:30
Left?

61 km

0.4 m

0.01‰
Wangumma

2.5 m

8
03 5027 8231
8:00-11:30
13:00-16:30
Unknown

39 km

0.3 m

0.01‰
Rufus River

2.8 m

7
03 5027 8225
8:00-11:30
13:00-16:30
Right? Exit back to Murray or Rufus rivers.

29 km

0 m

0.00‰
Murtho

2.9 m

6
08 8595 8025
8:00-11:30
13:00-16:30
Unknown

77 km

0 m

0.00‰
Renmark

3.1 m

5
08 8595 5114
8:00-11:30
13:00-16:30
Left? Possible long portage along Lock 5 Road.

57 km

0 m

0.00‰
Bookpurnong

3.4 m

4
08 8582 1388
8:00-11:30
13:00-16:30
Unknown

46 km

0 m

0.00‰
Overland Corner

3.7 m

3
08 8588 7005
8:00-11:30
13:00-16:30
Unknown

85 km

0 m

0.00‰
Waikerie

2.8 m

2
08 8543 2246
8:00-11:30
13:00-16:30
Unknown

69 km

0 m

0.00‰
Blanchetown

2.5 m

1
08 8540 5001
8:00-11:30
13:00-16:30
Right? Along The Parade to below lock.

88 km

0 m

0.00‰
Barrages
Goolwa
Lock
0408 813 729
8:00-12:30
13:30-16:30
Right,

750 m

. Boat ramp in the complex has a path leading to the road (upstream) and around the fenced lock complex.
Mundoo
Unknown
Boundary Creek
Unknown
Ewe Island
Unknown
Tauwitchere
Lock
n/a
24 hrs
Left has a short rock wall. Right has ramps. Lock is self-operated
* Height

Typical drop in height (

m

), can change in high or low water levels. Lake Alexandrina is typically about

0.75 m

above sea level and the drop varies with the tides.

† Lock

Hours of operations use the local time zones. Australian Eastern Standard Time (AEST) for Torrumbarry (lock 26) through to Rufus River (lock 7), otherwise Australian Central Standard Time (ACST) for the remaining locks and barrages that are all in South Australia.

‡ Portages

Those in italics are based solely on aerial photographs. Any portage will likely be at least

500 m

long.

§ River Leg

Distances (

km

), elevation change (

m

) and slope from the previous dam or weir. For the Hume Dam, these are calculated from Bringenbrong Bridge.
Dam or Reservoir
Weir or Low Head Dams